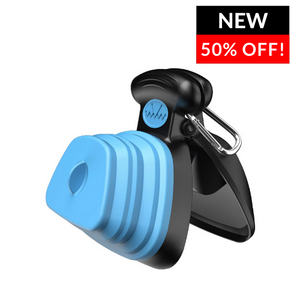 Are you still troubled by using your hand to pick up the poo of your beloved dog?  Being a dog parent is a lot of fun, cleaning after your dog is not. That is why we invented the KanineCare® poop scooper. 
Now, KanineCare® poop scooper can make the unpleasant but necessary task of collecting dog waste even easier.
KanineCare® poop scooper is committed to creating a good environment for dogs and dog owners. It will be the perfect companion for you and your beloved dog in walking, going to the park, camping and climbing.
A MUST-HAVE for every dog parent!
EXTENDABLE: The backside adjusts in size so you can scoop it all. Best for dogs of all sizes. [10KG≤Dog Weight≤50KG].
CONVENIENT:

KanineCare

®

 poop scooper

has an integrated waste bag compartment so you are all set. Use any standard size rolls.
PORTABLE: Doggy Dental® 

poop 

scooper 

hooks on a leash. You won't forget it and you won't have to carry it.
EFFECTIVE: Remove dog poop and waste from any surface without using your hands. Keep sidewalks and lawns clean!
MONEY BACK GUARANTEE: Providing high-quality pro

ducts to our customers is always our promise. If you have any problem just contact us, we promise the 30 guarantee days.
HOW TO USE IT?







 FAQ:
Question: What size KanineCare® should I get for my dog? 
Answer: We recommend a small-sized scooper for dogs that weigh less than 50 lbs(22kg), and a large scooper for dogs 50 lbs(22kg) and up. 
Question: Does KanineCare® poop scooper come with bags?
Answer: Yes, there is 1 roll bag (15PCS )in the scooper.
Question: Can I use my own bag?
Answer: Yes, but we recommend using our bag. It fits perfectly! Just be sure to pick the matching size for your KanineCare® poop scooper when purchasing our bags.